NATO Conference at NPS Shines Spotlight on School's M&S Contributions
NATO Conference at NPS Shines Spotlight on School's M&S Contributions
The
NATO Modelling & Simulation Group's (NMSG)
Annual Symposium was held in Monterey at the Naval Postgraduate School on Oct. 19-20. More than 75 personnel from almost all the NATO countries participated in the event which was designed to discuss how to better integrate M&S throughout the NATO militaries to iimprove their combat effectiveness.
The day before the symposium, the NMSG members were among the more than 200 professionals from across the Naval Postgraduate School, the wider DOD, industry, and NATO who participated in the NATO Modeling & Simulation Tech Day on October 18. The event took place on the NPS campus and was hosted by the NPS Foundation (NPSF).
Read more about this event.
As part of this event, the NPSF focused its November "Faces of NPS" upon the modeling and simulation efforts at NPS, and MOVES was heavily featured. The Foundation produced a video showcasing the importance of M&S upon the campus and the military and it conducted several interviews with MOVES students, faculty and alumni, which are described below.
Naval Postgraduate School and Modeling & Simulation for Defense
Timothy J. White, VADM, USN (Ret)
Modeling and Simulation Strategic Advisor to NPS/MS in Systems Technology (C3) '93
Vice Adm. TJ White is a 30-plus year national security practitioner, strategist, and cyber operations expert leading joint military formations and combined intelligence community organizations. He has commanded at all levels within the Navy and Joint Service, most recently as the Commander, United States Fleet Cyber Command / United States TENTH Fleet / United States Navy Space Command and previously as the Commander, United States Cyber National Mission Force / USCYBERCOM. He is a former Director of Intelligence for United States Indo-Pacific Command and has served globally in various combat zones and conflict areas supporting competition dynamics. A former CINCPACFLT Shiphandler-of-the-Year, he misses his days driving a battleship.
He is a 1987 graduate of the United States Naval Academy and holds additional diplomas from NPS, the Naval War College, the National Defense University and myriad professional education institutions.
"MOVES can be much more than the knowledge and tradecraft of M&S, experimentation, and design. It can become a deliberate bridge to Joint Force and Fleet Commanders. Particularly in partnership with NWSI."
Read the entire interview.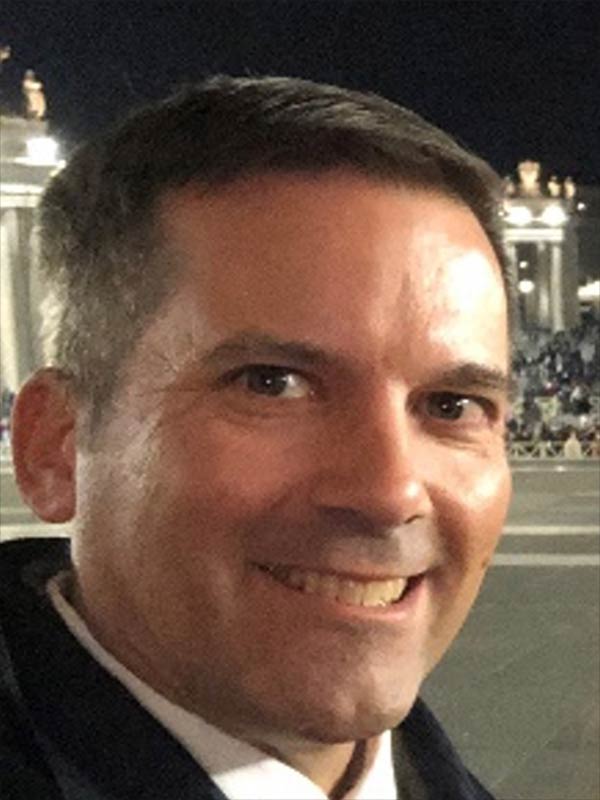 Jason Jones, LTC, USA (ret.)
MS in MOVES '03, Defense Program Manager at MATRIC Pro Sims
Jason M. Jones is the Defense Program Manager for Matrix Pro Sims, a commercial military strategy gaming company with a range of gaming software for use by defense professionals. Prior to this position, Jason was a U.S. Army simulation officer, with experience in constructive simulation of logistics, land combat and air and missile defense, and live simulation training as an observer/controller at the U.S. Army's National Training Center. His final assignment before retirement from the U.S. Army was as the Deputy Director of the NATO Modelling and Simulation Centre of Excellence.
‍Jason holds a Master's degree in Modeling, Simulations and Virtual Environments from the Naval Postgraduate School, where his thesis was on using commercial gaming software to conduct training for Infantry squads.
"MOVES' focus on fundamentals of M&S, both theory and practical implementation, support my daily mission of creating simulation effects that support an organization's objectives. And because MOVES emphasized a wider body of knowledge, I was also prepared to use the knowledge acquired from other campus disciplines: training management, human factors, networking, statistics, and preparing and analyzing surveys."
Read the entire interview.
Capt. Leah Hedgcorth, USMC
NPS STUDENT, MODELING, VIRTUAL ENVIRONMENTS, AND SIMULATION
Capt. Leah Hedgcorth completed her undergraduate degree in Ocean Engineering from the U.S. Naval Academy, and was commissioned in the Marine Corps in May 2015. Following her commission, she completed the Basic Officer Course in December 2015 and Logistics Officer Course in April 2016. She reported to Combat Logistics Battalion 2 in Camp Lejeune, NC, where she served as Motor Transport Platoon Commander, Landing Support Platoon Commander, and Current Operations Officer. In March 2018, She deployed to Moron, Spain in support of the Special Purpose Marine Air Ground Task Force Africa and served as the Combat Logistics Detachment Moron Executive Officer.‍
In June 2019, Hedgcorth reported to MCAS Iwakuni, Japan, where she served as the Combat Logistics Company 36 Executive Officer for one year and then reported to Marine Aviation Logistics Squadron 12 to serve as the Logistics Officer.
‍Hedgcorth is married to a fellow active-duty Marine, who is attending NPS in pursuit of his degree in Information Warfare Systems Engineering. Together, they have a 3-year-old son and are expecting their second son in March 2024.
"The future of M&S in the Marine Corps, Navy, and DOD will be shaped by a combination of artificial intelligence (prediction and decision support, training, and human-machine teaming), immersive technologies (VR, AR, MR), and distributed networking (via cloud-based simulations and 5G). Specifically, the development of AI for prediction and decision support and human-machine teaming will be the most transformative and will be a force-multiplier for the DOD in the next 30 years."
Read the entire interview.
Byron Harder, PhD
MS in Computer Science ('08)/PhD in MOVES ('13)
Model Engineer, Improbable Defense
Byron Harder served as a Marine artillery officer, acquisition project manager, and modeling and simulation officer from 1999-2021. He earned a B.S. in computer science from Vanderbilt University, a M.S. in computer science from NPS, and a Ph.D. in MOVES from NPS. While on active duty, he deployed to Iraq and Afghanistan in support of Operations IRAQI FREEDOM and ENDURING FREEDOM. His final assignment in the Marine Corps was Synthetic Training Integration and Management Branch Head, Training and Education Command. After completing a Skillbridge program internship with Improbable US Defense and National Security, he retired from active duty and started his current role with that company as a model engineer, where he contributes to the development of complex synthetic environments that feature integrated physical and cognitive models.
"After a few years of excitement in the Marine Corps, I jumped at the opportunity to attend NPS and spend some time focusing on science and technology. There are very few chances for Marine officers to do that kind of technical work, and as military retirement approaches, I knew that I wanted to transition to a more technical job. My education helped me... to contribute in some relatively unique ways while I was in uniform. Particularly after completing my Ph.D., I found myself answering hard questions from very senior leaders, including the Commandant of the Marine Corps. That was pretty exciting."
Read the entire interview.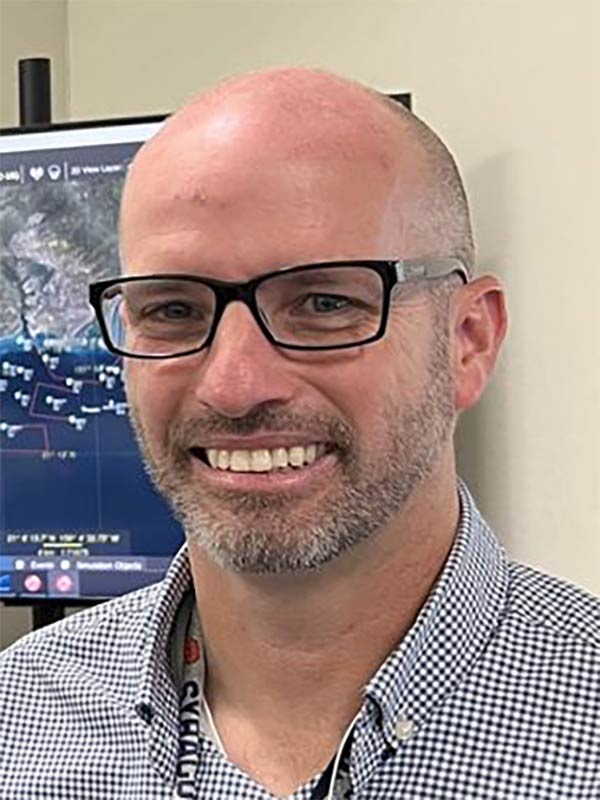 Christian Fitzpatrick
Faculty Associate - Research at NPS, MS in MOVES '09
Christian Fitzpatrickis currently a Faculty Associate – Research at the MOVES Institute, Naval Postgraduate School. Within the Department, Fitzpatrick teaches advanced simulation networking.
Prior to joining the faculty at NPS, Fitzpatrick served in the Marine Corps as a KC-130 pilot and Air Support Control Officer. After receiving his degree from NPS in 2009, he served at Marine Corps Combat Development Command where he developed scenarios for combat simulations to analyze the Expeditionary Fighting Vehicle (EFV) and Joint Light Tactical Vehicle (JLTV) using DOD-approved tools including COMBATXXI. He also spent 3 years at the Office of Naval Research where he served as a program manager and established a tactical cyberspace/electronic warfare S&T development program.
"Looking back, graduating from MOVES was life-changing. Although the curriculum was really challenging for me as a student, the faculty on campus were always willing to drop everything to help me with a question or problem. That example drives me now as a Faculty Associate. I want to be an advocate for our students. Teach them what they need to know. Expose them to the modeling and simulation tools they'll see in the Fleet."
Read the entire interview.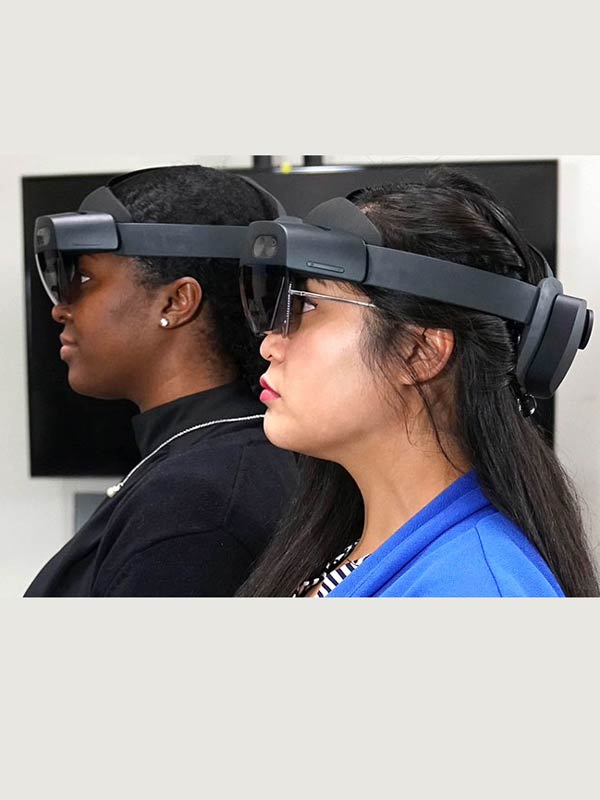 Lts. JaMerra Turner and Joanna Cruz
MS in Computer Science '22 and MS in Computer Science – MOVES Track '22
Lt. JaMerra Turner
U.S. Navy Lt. JaMerra Turner graduated from the Naval Postgraduate School in June 2022 with an MS in Computer Science. Turner's thesis topic was Supporting Mission Planning Using A Persistent Augmented Environment. Prior to NPS, as an Information Professional Officer, Turner was the Communications Officer onboard USS Carney (DDG 64). she is currently assigned to 556 Cyber Protection Team(CPT) as the 556 CPT Team Lead located in Pensacola, Florida.
Lt. Joanna Cruz
U.S. Navy Lt. Joanna Cruz graduated from the Naval Postgraduate School in September 2022 with an MS in Computer Science specializing in Modeling Virtual Environments and Simulation (MOVES). Her thesis was Supporting Mission Planning Using A Persistent Augmented Environment. Prior to NPS, as a Surface Warfare Officer, Cruz was the Anti-Terrorism Officer, onboard USS Bunker Hill (CG 52). She is currently assigned to USS John L.Canley (ESB 6) as the Combat Systems Officer located in San Diego, California.
"NPS' greatest strength is bringing a melting pot of perspectives and expertise into one location to attack multiple problems in the fleet. The diversity within the student body, which includes not only service members from multiple branches, but civilians, allows current technologies or applications used within the Navy or other branches to be thoroughly researched to determine if methodologies within NPS theses can be adopted to improve warfighting.
The interdisciplinary environment at NPS allows different perspectives and backgrounds to see improvements of pitfalls between two or more disciplines, or warfare areas, that would have never been identified if students were separated."
Read the entire interview.